Purdue Coach Joe Tiller Says Iowa Quarterback Drew Tate Is 'More Athletic' Than Notre Dame Standout Quinn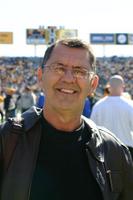 Brady Quinn last week. Drew Tate this week.
The problems never cease for Joe Tiller and his Purdue defense.
Quinn passed for 440 yards and three touchdowns last Saturday in Notre Dame's 49-28 romp past the Boilermakers, and now Iowa's Tate [whom Tiller calls "more athletic" than Quinn] is coming to Ross-Ade Stadium in West Lafayette, Ind., obviously eager to attack Purdue's porous pass defense.
"This is a typical Iowa team," Tiller said. "They're hard-nosed, and they're a team with an experienced quarterback and experienced receivers. I'd anticipate them coming in here and throwing the ball around.
"I can't imagine anyone who's watched us play thinking they'd do anything different."
************************************************************************
The 3:30 p.m. game, which will be televised by ESPN, matches two disappointing teams. Iowa has a 3-2 overall record [1-1 in the Big Ten] and has been thumped in both of its road games—23-3 at Iowa State and 31-6 at Ohio State.

Hawkeye coach Kirk Ferentz hasn't won in two tries at West Lafayette.

Purdue 2-2 overall, 0-1 in the Big Ten and has lost its last two games. The Boilermakers began their conference season with a 42-35 loss at Minnesota in two overtimes.
***************************************************************************
Asked to compare Tate and Quinn, Tiller said, "Drew isn't as big and physical as Brady. He's a shorter guy, but he's a guy who can move around.

"He's like all good quarterbacks. Quinn demonstrated on his first long throw last week that he has a good internal clock. Our defensive end would have raked the ball out of his hand if he'd held onto it for one-tenth of a second longer.

"Tate has a lot of those same qualities. He has a good internal clock and I think he has a good feel for the rush. As a result, he's a very productive player."
********************************************************************************
After winning its first five games last season, Purdue lost four in a row—the last to Iowa, 23-21, in Iowa City when Tate completed 24 of 45 passes for 270 yards and two touchdowns.

Asked how he plans to avoid another long tailspin this season, Tiller said, "We just want to get back to doing fundamental things. Change would be a big mistake—especially in the fifth game of the season."
**********************************************************************************
Vol. 4, No. 389
Oct. 4, 2005